NEWS
11/5/12


4/18/12
We head out on tour tomorrow! Hope to see everyone at the shows - Check the tour dates to see when we'll be closest to you! Also, we'll have new shirts with us as well as copies of our new 'UNWANTED SOUNDS' cassette (on Auris Apothecary). Watch the rad promo video:

Click the image below for more info on the cassette or to order it if you can't make it out to see us. Shine on.



4/06/12
Tour dates updated and posted and the video for Thee Desperate debuts on Brooklyn Vegan! Click HERE or just watch the full version of the video below:


Awesome feature in the new issue of RUE MORGUE!



Also, a killer review in the new issue of Outburn Magazine: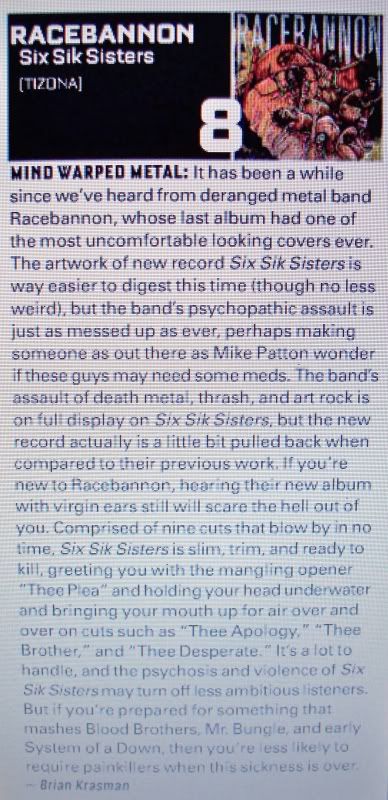 3/19/12
More tour dates added to the list including a show with the mighty Weedeater, ASG & Cough! Also, a few local shows coming up....April 1st w/Kata Sarka & Ancient Slang @ The Bishop....and, April 12th @ Magnetic South. Stay tuned.

1/29/12
A few more reviews of Six Sik Sisters worth checking out:
Alternative Press
Lambgoat
mxdwn.com
About.com
Video debut for Thee Desperate coming soon. Tour dates to be announced soon too. Shine on.

1/5/12
Lots of killer reviews of Six Sik Sisters coming in lately. Some of 'em also have song debuts/mp3 downloads. Check 'em out:
Redefine Magazine (w/mp3)
Brooklyn Vegan (w/song debut)
Vegas Seven Weekly
That's How Kids Die
The Onion A.V. Club (w/song debut)
Verbicide Magazine
Exclaim
All Music

12/22/11
Great review of Six Sik Sisters in the newest issue (#88) of Decibel Magazine
"...masters of reinvention and one of the noise genre's most unpredictable sonic architects...As much as this band excels at kickin' yr dick in with chaotic noise, slow and low suits them surprisingly well...8/10" -Nick Green

New shirt design by Colin McClain



12/11/11
We are pleased to announce that we will be working with Ballistic Missile Booking on an upcoming tour in April! You have been warned! Stay tuned for more info.

10/14/11
Two awesome shows coming up! Next week with Melt-Banana and a show with Thrones and Danava in 3 weeks! The show with Thrones will also be the debut of the new Racebannon lineup (featuring Karl Hofstetter on drums and Alex T. Mann on bass)!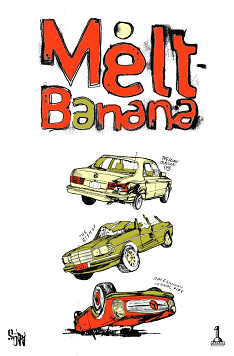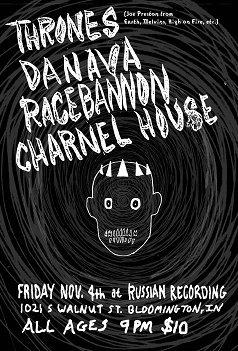 9/6/11
Six Sik Sisters is finally out and available everywhere. do it. download it if you must but, please pay for it. thank you. shine on.

7/19/11
Unfortunately, the release date of the new record has been pushed back to September 6th. We apologize but it's beyond our control. Thank you for yr patience.

6/6/11




3/15/11
Six Sik Sisters will be released to the world on July 19th, 2011 via Tizona Records/Chicago Independent Distribution. You will be able to purchase it on LP or CD or in digital format (which will also be included with the LP, of course). Hell yes.


07/21/09
Next week we'll be in Salem, MA recording SIX SIK SISTERS with Kurt Ballou at God City. You can follow James on Twitter for updates throughout the session by clicking HERE.
Also, work is almost complete on the WRAP THE BODY 12" coming out on Joyful Noise. Everyone should be pretty damn surprised by this record. It features Jilly Weiss from We Are Hex as well as remixes from Yea Big & Kid Static. Stay tuned for a release date.
05/15/09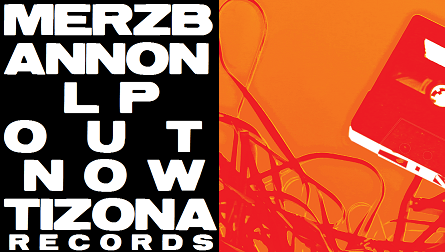 The MERZBANNON LP is out and available now from Tizona Records/Chicago Independent Distribution. It comes with an MP3 download code so you can listen digitally, if you must. You should order it from Insound.
02/03/09
A new year. Some new stuff:
TIZONA RECORDS will be releasing:
ACID OR BLOOD LP
MERZBANNON 12"
JOYFUL NOISE will release:
WRAP THE BODY DJ 12" (more info soon)
We will be recording SIX SIK SISTERS this year with Kurt Ballou at God City in Salem.
11/19/08
We're off to England to play some shows. We know some of you have been confused about our dates in the UK - the dates you see listed are the correct ones. Sorry about the confusion and the lack of Scotland and Ireland dates. But, if you can make it to any of the shows, we'd love to see you. We'll be covering more of Europe as soon as we can.
09/21/08
Thanks to Light Yourself On Fire for a great time on tour. And, thanks to everyone who came out to the shows, bought some merch, and let us crash at their places. We appreciate the support. The UK tour got pushed back a month, so check out the new dates. ACID OR BLOOD is now available to download from iTunes so do it now.
09/05/08
We're headin' out on tour! Come see us if you can. We got a new van (ironically, from the Indiana Blood Bank!) and we're friggin' ready. Unfortunately, we won't have ACID OR BLOOD LPs with us - it won't be available for another few weeks (iTunes available sooner). Yeah, we know that sucks. But, we've got ACID OR BLOOD cds and new shirts! Check the dates - some great shows scheduled. Hope to see you out there! Shine on.
We suggest ordering any Racebannon releases (including ACID OR BLOOD ) from INTERPUNK
08/01/08
Welcome to the new Racebannon site! Thanks to Aaron Tanner of Melodic Virtue for doing such a great job. If you ever need a quality site built, Aaron is yr man. He'll make it just the way you want it (within reason, of course). Good job, Aaron. Much love.
So many things going on at the Racebannon camp these days. We're getting set to tour the U.S. (with Light Yourself On Fire - Seventh Rule) and the U.K. in September. Check the TOUR DATES section for info. Also, the new album ACID OR BLOOD is finally fucking seeing the light of day, thanks to Southern Records. It drops August 11th (Europe) and 12th (US). The vinyl will be available the second week of September. So, go buy it. Or, download it from iTunes. Just fucking get it! We're happy to finally be moving forward instead of sideways. The wait is over, damnit. We've got a new label, a new album, a new website, new merch (thanks to Shirtkiller.com), new gear, a new van (maybe? let's hope by the time you read this we do), and new shoes (except for Brad). So, let's do this. We've already finished writing another album called SIX SIK SISTERS that we're hoping to record with Kurt Ballou (Converge) for next year. It's gonna be really brutal. Oh, and that pentagram looking image that yr seeing is actually a sigil that says 'Racebannon' and, yes, it's our new logo (thanks to Sal).
Also, in the works:
+MERZBANNON 12" (Merzbow "re-mixing" the entire Satan's Kickin' Yr Dick In album)
+The "Remixes" double CD featuring: Yea Big & Kid Static, Rep Seki, Anakrid, Drekka, DJ Spikes, and many, many more. Hell, DoseOne (Anticon) is even on there
+DJ "Dance" 12" (Joyful Noise)
Stay tuned for all of this shit to drop soon!
Oh, and you can click on the fuck fright logo on the menu bar at anytime for the pop-up with links to get what you need. Do it.
LET THE FUCK FRIGHT SHINE